Brad has recently been leading a healthy lifestyle, he is noticeably younger, fresher, and thinner. Pitt looked pleased to be reunited with George Clooney on the set of the new thriller Wolves. The actors have already worked together on the crime trilogy Ocean's Eleven, Ocean's Twelve, and Ocean's Thirteen. In 2008, they starred together in the film Burn After Reading.
The actor beamed with a smile despite learning hours earlier that he hadn't received the Best Actor nomination for the top-grossing film Babylon at this year's Academy Awards. Despite this slight, Pitt looked focused and ready to move on to his next project.

Angelina Jolie's ex-husband arrived at the site in a white T-shirt, gray fleece overalls with orange lining, and white sneakers. He carried a bright red bag on his shoulder, and in his hands, he held a yellow plaid. Accompanied by a bodyguard, Pitt went to his make-up car, where he changed his outfit for a more brutal look. The actor appeared in a white shirt, gray trousers, a cropped leather jacket, and classic boots.
Filming took place on a sidewalk in the Harlem neighborhood of New York. The artist's hair with gray hair was put in a creative mess, but his mustache and beard, on the contrary, were neatly trimmed. Pitt greeted the members of the crew outside his trailer with undisguised pleasure.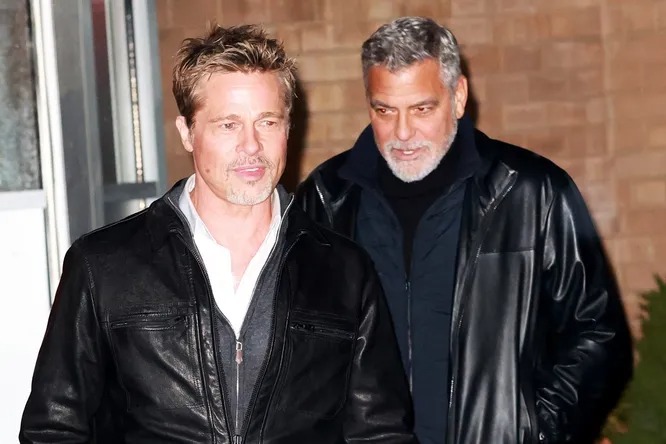 Project partner George Clooney appeared next to him. He wore a similar ensemble of a black shirt, blue sweater, charcoal trousers, and a leather jacket. He also completed his look with black shoes.
The script for the new film with Pitt and Clooney was written by Jon Watts, who directed the latest Spider-Man trilogy for Marvel. The actors will play "lone wolves" who are assigned to complete a single task. Both also act as producers of the blockbuster through their companies, according to the Daily Mail.

For fans of the artists, this has been a long-awaited reunion since the release of Oceans 3 in 2007. After that, rumors regularly arose about the filming of the fourth film of the criminal story about robber aces.
Rumors of a film starring George Clooney, Brad Pitt, and Matt Damon have been circulating for years. But the timing wasn't right and their busy schedule meant it just wasn't possible," the insider said. At the end of last year, it became known that the trio had finally signed a contract.